#1 – BODY FAT

YOU ARE A BEAUTIFUL UNICORN. 
The hard truth about six-packs is that you typically won't see your abs pop out if your body fat is higher than 12%. Some of us put on body fat more easily than others, and we don't all carry body fat in the same places. For instance, I happen to carry very little body fat around my stomach and waistline – when I gain weight, the first place it goes tends to be my thighs and buttocks. The reason I mention this is because you may or may not have to work harder to get chiseled abs than someone else – it really all depends. Embrace the body you were born with because it's beautiful and unique just to you, and it's still possible for you to get those abs you want – just keep reading!
---
#2 – DON'T DO CRUNCHES…YET
Crunches and sit-ups obviously target your abdominals so why would it ever make sense for me to say Don't start there? Almost all of the workouts I do involve whole-body movements — so I'm not just targeting specific muscle groups. These include sprints (especially incline sprints), squats, pull-ups, planks (try to get to 2-minutes), calisthenics, and yoga (more on Yoga below). Can't do a pull-up? These take practice, but the more you try, the easier it gets. (Right now the most I can do is about 7 or 8). start with an assisted pull-up or have a trainer help you. When I do crunches, it's usually at the beginning or end of my workout as a warm-up or cool-down. And if I don't have any pain, then I know I'm not doing enough. When I'm in good shape, that may mean I need to do a couple hundred to feel like anything is happening. According to legend, when Muhammad Ali was asked how many reps he did for abs, he responded "I don't know—I don't start counting until it hurts." (1)
---
#3 – FATS AND CARBS 

THE WAR'S OVER.

People have become very, very confused about what they are supposed to put in their body. I am not a doctor or certified nutritionist, but I have been eating food for almost 31 years now, and I promise you that carbs and fats are NOT thy sworn enemy. (If you want credentials all I can say is that those are my abs in the photo at the top of this post). Our bodies need some complex carbohydrates to supply our system with energy and aid our digestion – especially if we're doing intense physical exercise on a regular basis. (Note: Quick refresher on "complex" or "smart" carbs: these are Whole Grains like brown rice, whole wheat pasta, and my favorite – Old fashioned oatmeal. Healthy fats are foods like Avocado – anything high in UNsaturated fat.)
Let me say that again: OATMEAL.
(It'll change your life– or at least your mornings.)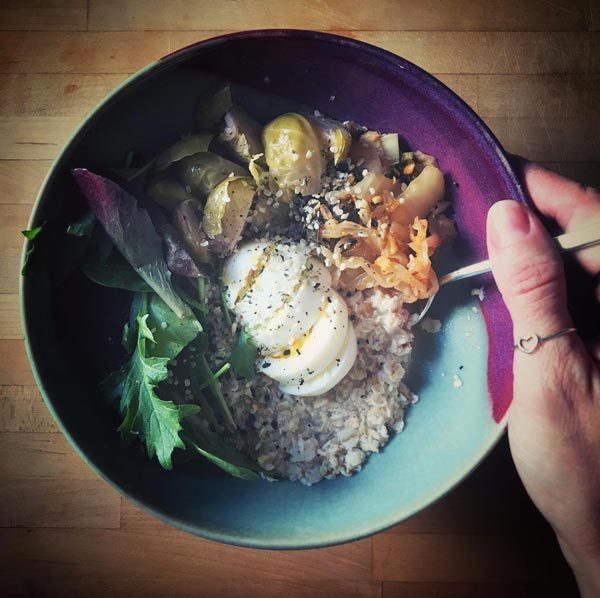 IMAGE CREDIT: LIZ GREENWOOD 

@LIZZIEG112

 > 

HTTPS://INSTAGRAM.COM/P/BDVB9L-HOWX
SAVORY OATMEAL (SOFT-BOILED EGG, OLIVE OIL, KIMCHI, GREENS, SALT, PEPPER, SEEDS, AND PICKLED BRUSSELS SPROUTS)

If you've heard someone say "You are what you eat" then that works well for the donut and fried chicken sandwich-craving situation. (By the way, how's that IBS coming along?) But how often do you hear someone say "You are WHEN you eat"?  Do your best to stick to a routine schedule for eating – some of us struggle to remember to eat when we're supposed to because we get caught up in our busy lives. If you're someone who makes excuses like that, take a moment now to think:
What are you prioritizing in your schedule ahead of your own health and happiness?
If you're a meal-skipper, try setting an alarm on your phone and actually stop what you're doing, get up, stretch, and go eat a proper meal (of complex carbs, proteins, veggies and fruit). Seriously – pencils down – move away from the desk – just…STOP. Each time you do that, the next time will be easier, and it'll become habit. This regular routine you build into your schedule 3 (or more!) times per day will do wonders for your digestive system, which has a big impact on what your stomach and hips look like.
Socrates said:  "Know Thyself" – Your body has ways of telling you what you need and what's going on inside of you – it takes time and practice to really listen to your body and understand what you need — honestly though for most of us it's probably that we need to eat more vegetables. Yep. Mom was right. Socrates too – and check out those abs!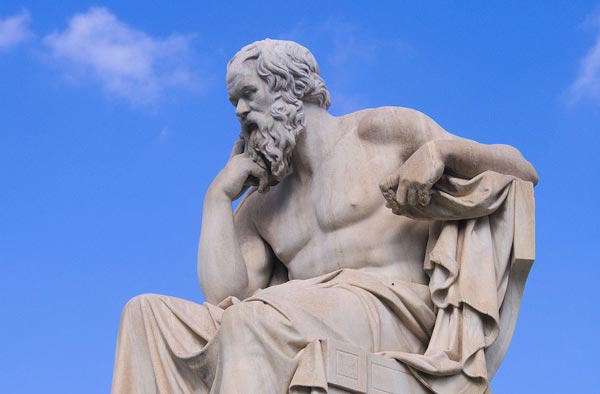 IMAGE CREDIT: WIKIPEDIA (4)
#4 – WATER

WHAT ARE YOU DRINKING IN THAT CUP?
If it's not water, put it down and go get a glass of water.  The Institute of Medicine estimates that men need around 3.7 liters of water a day, while women need about 2.7 liters, including what we get from our food (~20-25%). How do you know if you're dehydrated? Go pee, and look at its color. Anything darker than a light lemonade color means you need some H2O, pronto.(5)
---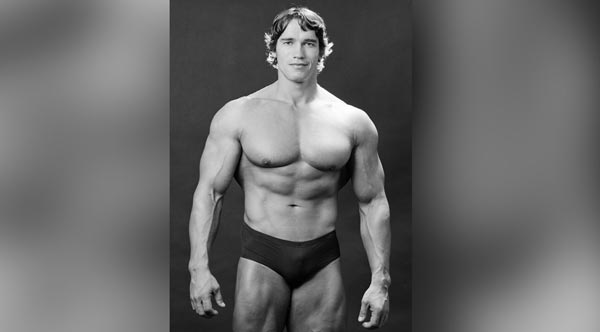 #5 – SHOCK THE MUSCLES
This one time (earlier today) I watched a video on Youtube where Arnold Schwarzenegger explains the 3 key principles of building muscle: "Shock the muscle, shock the muscle, shock the muscle." One of the ways you can accomplish this is by continuously changing up the exercises in your routine so you're body doesn't get used to doing the same thing over and over again. It's as if your muscles are saying "Wow this is shocking and new, let's grab some stored energy and get to work" – the first thing they do is start burning any fat in sight (stored energy) and use that to grow and increase in strength. (6)
Another excellent way to shock the body is to do short intervals of intense sprints (or as fast as you can go if sprinting is not your forte). I love a good 30 minute jog around the neighborhood, but I save those for maintenance, recovery, or mental/emotional decompressing. If I'm looking to increase physical performance, grow muscle, burn fat etc, then interval sprints are my go-to. By the way, this concept of "shocking the body" is core to what Circuit Works is really supreme at doing – you never know what you're going to get as far as the routines (which also makes it more fun – I get bored easily) and you're switching back and forth between treadmill and exercises. They have you do that because they know it's effective.
---
#6 – TEST YOUR BALANCE. (YOGA)
Then work to achieve that balance back. add a little extra challenge to your free weight exercises by doing them standing on a bosu ball or mini-trampoline (I've seen Circuit Works routines incorporate this pretty often). As you improve your balance you'll strengthen your core, and that in turn will help your balance even more – a virtuous cycle indeed. Even better than this is YOGA. If I've been slacking on my workouts (yes I become a couch potato sometimes too) yoga is my go-to and my abs are the first thing that start to come back, even after just a couple classes. Yoga is great for developing all these tiny little muscles that we don't normally see – they're like the muscles between the muscles. They give us more flexibility, and – you guessed it — more CORE strength. That's why yoga is so key to improving athletic performance. If you are a Circuit Works junkie, I encourage you to balance your days off with some yoga, as they will make your CW workout even better because your overall performance will be at a higher level.
ONE LAST THING:
We often strive to make our bodies look a certain way because we want to look sexy, but the benefits of developing strong core muscles go much deeper than appearances. Our core strength is the source of our inner confidence – if our core is weak, our self-confidence is hindered significantly. By working on our core muscles we can achieve higher confidence in ourselves, and ultimately better balance in our lives. Keep this in mind as you strive toward that six-pack – the resulting self-confidence may turn out to be even sexier than what's under your shirt.
---
SOURCES:
About the Author
Ru Keïn is a guest writer and web developer/consultant for Circuit Works. After graduating from Bates College as a two-sport collegiate athlete (field hockey and lacrosse), Ru moved to Los Angeles and co-founded a marketing agency Kinetik LA with one of Circuit Works' own, Jennifer Schanuth. (By the way they built this website).  Currently Ru is pursuing a new career and lifelong dream to work in the space industry as a Data Scientist and Software Engineer. Follow her on Instagram: @brutalpoet.